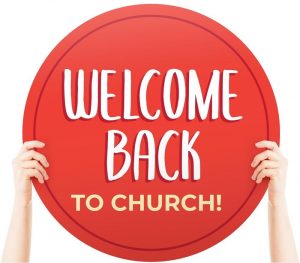 This Sunday's Mass: (7-5-20)
Video Masses will continue to be offered for the foreseeable future while the church will be open for you to come to Mass.  This coming weekend of June 20th and June 21st  Masses will take place on Saturday at 5:00 PM, and on Sunday at 8:00 AM,  10:00 AM, and 12:00 noon.  The weekend schedule will continue to be evaluated to allow for everyone to be admitted to Mass.
FAMILY FAITH FORMATION
Thank you to so many families who have mailed in the registration forms for their children's religion classes that will be happening this fall. If you have not yet registered, please do so at your earliest convenience. Check the Family Faith Formation section of the website for all of the details.
At this point, it is impossible to know exactly how and when our religion classes will begin in the fall. Like the whole world around us, we are at the mercy of the continuing pandemic. Many different models and methods are being considered, along with trying to put together a calendar that will work for everyone. Person to person classes have been the usual method, but will we have to use online teaching, more parent involvement than we already have, more use of videos and other social media? Of course, our first priority must be the health and safety of our children.
Kathy Russel-Sica, our Director of Family Faith Formation has contacted all the catechists and invited them into an ongoing conversation with herself and Hank MacLellan, our Assistant Director, and Sister Joanne who as our Office Manager has already been so helpful in getting ready for September. The catechists have offered so many creative ideas and we are so grateful for all that they have to offer. As Kathy has said, we ask the catechists to continue to reflect and make suggestions.
CONFIRMATION: This week we received word from the Bishop's Office that they will soon be issuing guidelines for how we can plan for the Confirmation that we were not able to have in April. We will notify you as soon as we have the information. The same is true for First Communion.
Let us pray for our young people who are still looking forward to the day of their First Communion and for the teenagers who will be receiving their Confirmation. May their patience be rewarded by a truly joyful celebration of their special day.
Fr. Joe
This is a cute story on creation you can share with your children:
Another cute story about Jesus the Teacher:
Link to our music video
This is a link to all the services so far on Youtube:
https://www.youtube.com/playlist?list=PL9Hvh0EVKrkbjBzVy_0N61YBni4DgfZvA
We will be using this song at our First Holy Communions when they happen. We would love for you to practice this song with your child:
I Love You Lord
Update to our families regarding the Corona Virus
We are asking our families to complete their child's/children's religion books at home. Please hold on to your child's completed book. 
Below you will find a few suggestions to give you a few extra resources for grades 1 thru 6.  
Level 7 was given an additional book to complete for the weeks that said Service Project on the agenda. Please email us to set up a time to pick up this book if you have not already done so.
Level 8 families- please see the link below for the Chosen Access program.
Family Faith Formation 
We still do not have any idea when our Sacraments will be able to happen. We are watching closely the government and our diocese for instructions on how to proceed. We are so sorry for all our families in waiting. We pray for all our you and we know that we will be together again.  Please feel free to send in a registration form, whether you can pay now or not. We are exploring a few different models for September. There will be faith formation, we are just unsure as of yet what it will look like. 
Please see the Pastor's Corner Page on our website for more information.
If you would like to follow the Daily Readings from Mass you can log in to USCCB.org
You will be able to see the readings and they also offer audio or video reflections. You can also receive a daily email with the readings.
Lesson Plans and Resources for Grades 1 thru 6
We have left the Grade Level Agenda's on the website so you can see what lessons need to be completed. This can also be found on your calendar. Please know that all extra activities and workshops have been postponed until further notice.
Joining the Ministry of Family Faith Formation
Jesus taught us to love God and one another. Help spread the love by volunteering to help in this very rewarding ministry. We could use catechists (teachers), class aides, office volunteers, parking lot safety help on Mon. and Tuesday evening, high school students to tutor one on one etc. We provide catechetical ministry to families at the center, Monday and Tuesday we could use help any of those days.
Please call us at 567-1765. Thank You.
Family Faith Formation Business Hours- We are presently closed but checking the email daily. You can send us messages via email, stjohnreled@optonline.net
The office is currently closed but we are checking messages and email. Please do not hesitate to contact us for any reason. Email will be a faster route.
Monday-Thursday 10 am-4:00 pm September to June
Monday-Thursday 10 am-3 pm July to August
Friday, office is closed.
Class Times at the Center (We are unsure at this time what the model of Faith Formation will look like this coming year. Please add your requested day and time to your registration form, but be prepared for things to change.)
Monday, Tuesday 4:30 to 5:30 pm
Monday, Tuesday 5:45 to 6:45, Monday 7 to 8 pm
Forms
Calendars
Contribution for each grade for Outreach- Our Outreach is supporting many families right now. If you are able to donate please leave your items in the back of the Church on the food carts. Thank you for all you do for our parish family!!
Level 1 Cereal
Level 2 Peanut butter/Jelly
Level 3 Juice boxes
Level 4 Juice
Level 5 Macaroni and Cheese
Level 6 Tuna Fish
Level 7 Pasta
Level 8 Pasta Sauce
Like us on Facebook at St. John Nepomucene Family Faith
Sign up at Remind.com to receive all messages. This will be our only form of communication for important messages and reminders.
Special Needs
We offer a special needs class for any student who requires a special education placement. Our catechist is a certified Special Education Teacher who provides Sacramental Preparation as well as weekly Religious Education lessons for our students. Along with our catechist we have many assistants who are there to provide a loving, nurturing environment for our children. Levels 1 thru 8 are welcome. Please contact us and let us know if you have a child who has special needs. All children are welcome to receive his/her Sacraments and gain a foundation of the love of Jesus Christ.
Every Tuesday at 4:30 pm.
Class Information
Requirements, Attendance and Absences
All classes are 1 hour, and there are approximately 24 classes a year.  It is necessary for parents to bring the children on time for all classes and activities.
We take strict attendance each week of class.  This is actually a legal record for the diocese.  Please keep in mind that after 3 absences we will call or write to you;  after 5 unexcused absences, with no communication to the office, your child will be asked to repeat the grade.
Important 
If you know your child will be absent on a given day please call our office to let us know. (631) 567-1765
If your child misses a class please cover the chapter for that week at home before the child returns to class
Sign in and sign out / adult to adult hand-off (in the center and in home groups) for all grades 2nd to 8th
To help insure the safety of the children while they are attending FFF programs & classes, the adult in charge of drop off and pick up must sign each child in and out with the Child's Catechist (teacher).   If your child attends class in a home group please make sure you see the child's Catechist (teacher) at the home and sign children in and out before dropping off your child and leaving.  Adult to adult hand-off  is absolutely necessary when bringing children to and from religion classes or any activity sponsored by St. John's.
Also, do not drop your child off more than 10 minutes early or pick him/her up more than 10 minutes late.  If continuing lateness occurs we will talk to you about making other arrangements for your child's religion class.
Altar Servers – At this time Altar Serving is on hold for the reopening of Mass
Students entering 4th grade and older are welcome to join the altar servers. Training dates will be posted in the bulletin as soon as they are available.  Please contact Mrs. Deb Bartlett, (631) 244-0663.
Altar Server Training:
There will be an announcement as to when the next training sessions will take place.
Please also always check the Bulletin  for updates, changes or new events.  Thank You